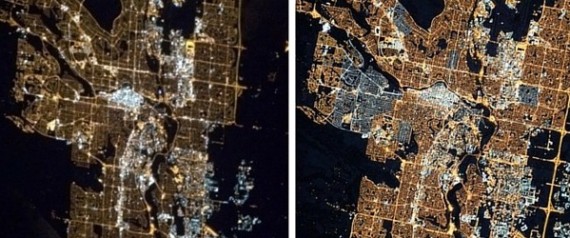 Calgary under conventional streetlights back in 2013 (left), taken by astronaut Chris Hadfield compared to Calgary in 2015 (right), taken by astronaut Scott Kelly (Photo Courtesy of Chris Hadfield and Scott Kelly via Twitter)

A photo taken by American astronaut Scott Kelly from International Space Station (ISS) shows the influence of Canadian city Calgary's LED streetlights conversion, according to a report from Huffington Post.
Calgary is a city in the province of Alberta, Canada. Astronaut Scott Kelly posted an aerial photo to Twitter last week with the caption "#GoodMorning #Calgary and all my friends in #Canada!"
Calgary kicked off LED streetlights conversion in September, replacing high pressure sodium vapor lamps (HPS). The transition is expected to be completed by 2018, targeting 80,000 city's streetlights.
Compared to HPS lamps, LED streetlights have cooler hue and produce directional beam. Less upward light potentially means reduced light pollution.
In order to better observe the night sky, the local group Rothney Astrophysical Observatory played a crucial role in the conversion of LED streetlights.
So far, the city installs an average 2,000 LED streetlights per month. Meanwhile, the city welcome residents to reply any situation where the streetlight beam is too strong and had influence their activities at night.
The LED streetlights are expected to save the city around CA $6 million (US $4.5 million) per year. The conversion will cost approximately CA $32 million (US $24 million), which the city hopes to recoup within 6.5 years.